You can't use a screwdriver to hammer a nail—some tools are just not right for the job at hand. In previous newsletters and email communications, we have reminded users to not upgrade BMS-issued computer equipment to Windows 10 due to the web browser incompatibility with PACER, as well as other issues.
Recently, Microsoft has been using deceptive tactics to automatically schedule covert installations of Windows 10 on computers with Windows 7 or Windows 8, blindsiding many users that were not aware of the new automatic updates.
The automatic update to Windows 10 appears as a pop-up on the user's screen, as shown below:for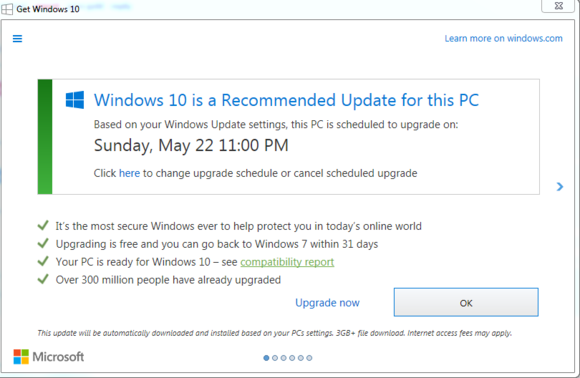 If users want to decline these automatic updates, they have to manually click on the tiny "here" link in the "Click here to change upgrade schedule or cancel scheduled upgrade" sentence located below the large date and time.
Here's the sneaky part, Microsoft is tricking users now by not treating clicking the "X" in the upper right corner of the pop-up or clicking the OK button as a dismissal button. By clicking the "X" or the OK button it is the same as giving consent to the Windows 10 upgrade!
If you do close the pop-up by clicking the "X" or "OK" button, you'll get a second pop-up where you get another chance to cancel the update to Windows 10 by clicking on the "Reschedule or cancel upgrade" link.
If you accidentally update to Windows 10 and would like to revert back to Windows 7 or 8, there is good news – you have 1 last chance to revert back within one month of updating. To do this:
Go to Settings > Update & Security > Recovery.
Select either Go back to Windows 7 or Go back to Windows 8.1. This won't affect your personal files, but it will remove any apps you installed after the upgrade to Windows 10.
If you have any questions, please contact the BMS Hardware Support team by email or phone at 800-634-7734.